2023/04/12

CITIZEN PROMASTER UNITE with BLUE limited edition model inspired by the beautiful oceans that unite our world
CITIZEN Watch is launching a limited-edition CITIZEN PROMASTER UNITE with BLUE model (7,000 pieces worldwide) in June 2023 featuring a structural colour dial*1, inspired by the beautiful oceans that unite our world.
* Final price, launch date, and number of pieces may be subject to change.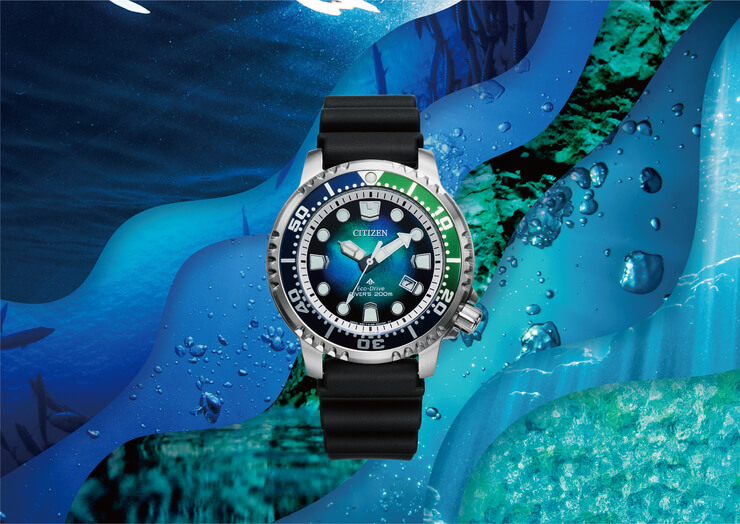 CITIZEN PROMASTER UNITE with BLUE Limited-Edition Model BN0166-01L
The limited-edition UNITE with BLUE model is a light-powered Eco-Drive*2 watch with a captivating dial featuring countless shades of blue inspired by the beautiful oceans that unite our world.


The dial uses 100% recycled polycarbonate materials. The structural colour ink on the surface of the dial, created by FUJIFILM Corporation, produces an incredible variety of glittering colours inspired by the beauty of the ocean. The pigment-free ink utilises light reflecting off the microstructures in the ink layer to create a variety of shades and tones. The watch is powered by light, a form of clean energy, and the unique dial utilises light to create beautiful colours, perfectly complementing the Eco-Drive technology inside.


The two-tone bezel is reminiscent of a sparkling emerald green ocean, coordinating beautifully with the colours on the dial. The strap is made from biomass-based polyurethane which includes plant-based materials.


Brand
CITIZEN PROMASTER/ UNITE with BLUE Limited-Edition Model
Model
BN0166-01L
Price(projected)
USD430
Limited quantity
7,000 (Worldwide)
Launch
Jun, 2023 (scheduled)
Case/Band
Stainless steel / Polyurethane (including biomass-based materials)
Glass
Crystal glass
Case diameter / thickness
44.0mm/11.5mm(design specification only)
Specifications
■ Cal.E168/ Accuracy of ±15 seconds per month / Eco-Drive running for 6 months on full charge ■ 200m water resistance ■ Recycled materials used for selected dial componentsfor one year on full charge ■ W.R. 10 BAR

※1 Structural colour dial: A dial printed with pigment-free ink that produces colours by using light reflecting off the surface of the microstructures in the ink layer.

※2 Eco-Drive is CITIZEN's proprietary technology that powers watches using any natural or artificial light source, eliminating the need to replace batteries. Certified as an Eco Mark product for the first time in the watch industry.



CITIZEN WATCH is a true manufacture d'horlogerie with the capabilities to carry out the entire watch manufacturing process in-house, from creating a watch's individual components to its final assembly. The company operates in more than 140 countries around the world. Since its founding in 1918, CITIZEN has held the belief of "Better Starts Now" — that is, no matter who you are and what you do, it is always possible to make something better, and now is the time to start doing it. Sharing this belief, we have made watches, invented and improved technologies and explored the future of watches such as our proprietary light-powered Eco-Drive technology.



* Eco-Drive is a registered trademark or trademark of Citizen Watch Co., Ltd.

* The final design and specifications are subject to change without notice.

* The availability, specifications, and related information, such as the product code for the models featured in this site, may vary by markets. If you would like to know more details, including the availability of these products in your area, please select your local website from our global site.